Photo Credit: Nick Verbenec/Special to PrepsKC
Despite his team closing the regular season on a five-game losing streak, the Piper football team didn't look like a team that had lost its confidence in the first round of the Class 4A playoffs on Friday night after Basehor-Linwood.
The belief the Pirates had in themselves paid off, as they erased a 19-point third quarter deficit to earn a 56-47 win over the Bobcats. Piper (4-5, No. 7 seed in the 4A East) advanced to take on second-seeded and unbeaten Paola in the second round.
"I said just keep the course, guys. Keep the course, keep working and that victory on Friday will taste so much sweeter after going through what we've been through," Piper coach Rick Pollard said. "Our guys fought and fought and fought. We were down 12 at halftime. We were down early in the game. We were down 19 and we just fought. I told our guys I still believed in everything we were doing, and it showed."
After Basehor-Linwood senior quarterback Chase Torkelson marched the Bobcats down the field on a one-minute and 14-second scoring drive to begin the second half, Basehor-Linwood led 37-18. The momentum for Torkelson's 20-yard touchdown pass to Connor Younger went away in a hurry, though, as Piper scored 22 unanswered points in the next three minutes and 42 seconds.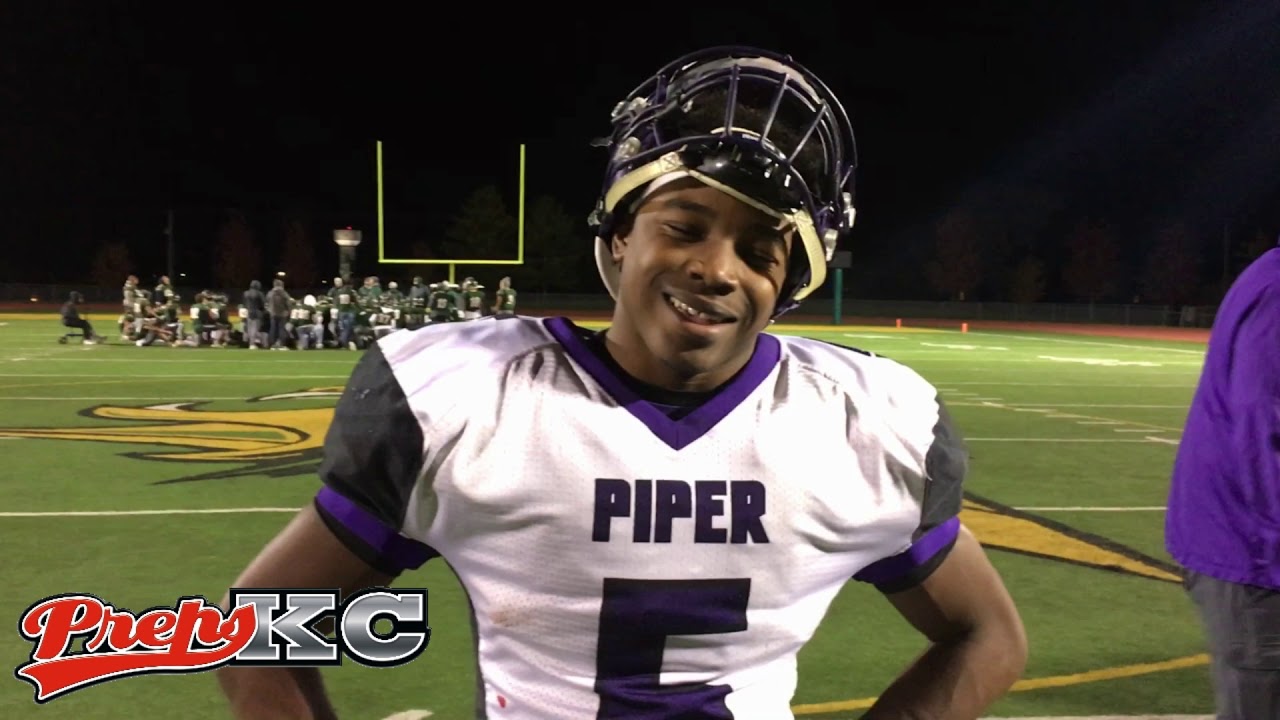 Piper junior Brandon Snell provided the first spark for the Pirates. Snell returned the ensuing kickoff for a touchdown to trim the Bobcats' lead to 37-25. The 5-foot-10, 165-pound junior scored two special teams' touchdowns. His first score put Piper on the board when he returned a muffed punt return for a touchdown.
"I just caught it and ran," Snell said. "That's all I did. My teammates, they blocked, they blocked, they blocked. I'm proud of them."
Snell's partner in crime in the secondary was the next player to step up for the Pirates, as sophomore Ethan Walker returned an interception 60 yards to quickly halt Basehor-Linwood's next drive. Walker nearly took it all the way back for a pick six, but junior Anthony Ferguson cashed in on the very next play with a two-yard touchdown run. Junior Lejames White's two-point conversion cut the Piper deficit to 37-33.
The two-point conversion was just the beginning of White's second half explosion. White gave the Pirates their first lead at 40-37 with 7:04 to go in the third when he broke free for an 82-yard touchdown run. The junior tailback was happy to redeem himself from a first half that far from met his standards. White was bottled up for 19 yards in the first half and threw an interception on a halfback pass that Basehor-Linwood senior Hardy Bergman returned for a touchdown.
"His teammates told him that they were going to pick him up. He made a mistake, but we told him we were going to pick him up and we did," Pollard said of White, who rushed for 179 yards. "Nobody put their head down. We just kept fighting."
The Bobcats didn't put their heads down after despite the sudden swing in momentum. Torkelson wasted little time in putting the Bobcats back in front when he threw a 67-yard strike to senior AJ Cooper.
Torkelson threw two of his four touchdown tosses to Cooper en route to completing 28 of 43 passes for 405 yards. Cooper (five catches for 117 yards) was one of three Bobcats to go over the century mark in receiving yards. Junior Ethan Huber led Basehor-Linwood with 12 catches for 120 yards and added a 2-yard rushing touchdown. Younger chipped in four receptions for 106 yards, and sophomore Jordan Brown added four catches for 44 yards and a touchdown.
While the Bobcats' offense effectively moved the ball for much of the game, a couple of costly plays in each phase of the game snowballed and ended Basehor-Linwood's season. The Bobcats ended the season at 5-4.
"It's a game of momentum. There were a lot of big plays back and forth," Basehor-Linwood coach Rod Stallbaumer said. "When you're in the playoffs, you just can't make those kind of mistakes. We've just got to be more disciplined in the future."
Piper surged back in front, 46-44, when Ferguson found pay dirt for the third time. Ferguson scored twice on the ground and hauled in a 12-yard touchdown pass from freshman quarterback Logan Ladish.
The Pirates sophomore starting quarterback Carson Schaunaman went down with an injury in the middle of their five-game skid, which forced Ladish into action. Ladish completed 9 of 15 passes for 105 yards and had a pair of touchdowns and interceptions. His second touchdown pass went to sophomore Blake Porter on 4th and goal from the 10 with five seconds to go in the first half.
"There's a lot of talent from these freshmen. I'm proud of Logan, our freshman quarterback," Snell said. "He stepped up and did his job when our starting quarterback got hurt. Those are just amazing people."
Piper took the 46-44 lead into the fourth quarter, but Basehor-Linwood senior kicker Nate Parkison gave the Bobcats a one-point edge after drilling a 26-yard field goal with 11:56 to play. The Pirates' kicker had an answer, though, as senior Miles Lockridge nailed his 36-yard attempt with 6:58 to go. White put the nail in the coffin for the Pirates when he burst up the middle for a 12-yard touchdown run with remaining.
Next up for the Pirates is a Week 6 rematch against Paola. The Panthers upended the Pirates, 43-16, in the regular season contest.
"I'm just ready for next week. We've got to come in on Monday and work hard. It starts tonight," White said. "We've got to start preparing for next week. They (Paola) came out and beat us earlier in the season. We've got to come back and finish where we left off."
For more great photos from this game go to:
nverbenec@yahoo.com www.nickverbenecphotography.com (913)449-5126 Facebook: www.facebook.com/NickVerbenecPhotography