It took all of 14 seconds for Raytown to grab the momentum during Friday night's Class 5 clash with North Kansas City, and once that happened the Bluejays were off and rolling.
D'Vontae Key took the opening kickoff 75 yards for a touchdown and the Bluejays never looked back, rolling to a 48-7 win.
"I was surprised. I was really surprised," Key said of the Hornets kicking it to him. "As it was in the air I was planning where to go. If I could get to the sideline, I knew I might go. That's a great start. It's the best way to start."
Raytown has had one of the most dynamic special team's units in the city and it was on full display Friday night. Key nearly took a punt back for a touchdown in the fourth quarter, too.
"We've been electric on special teams all year," Raytown head coach Logan Minnick said. "D'Vontae and Dontae (Manning) both have three returns for touchdowns. It's hard to kick it away from them. To be up 7-0, 14 seconds into the game, obviously, that feels great."
Key and Manning helped lead the charge on both sides of the ball.
Manning had a pair of touchdown runs in the first half, sandwiched around a Jeremy Brown 2-yard scoring run for the Hornets, giving the Bluejays a 21-7 lead going into the half.
The Raytown defense put together a goal-line stand as time expired before half to preserve the two-score lead.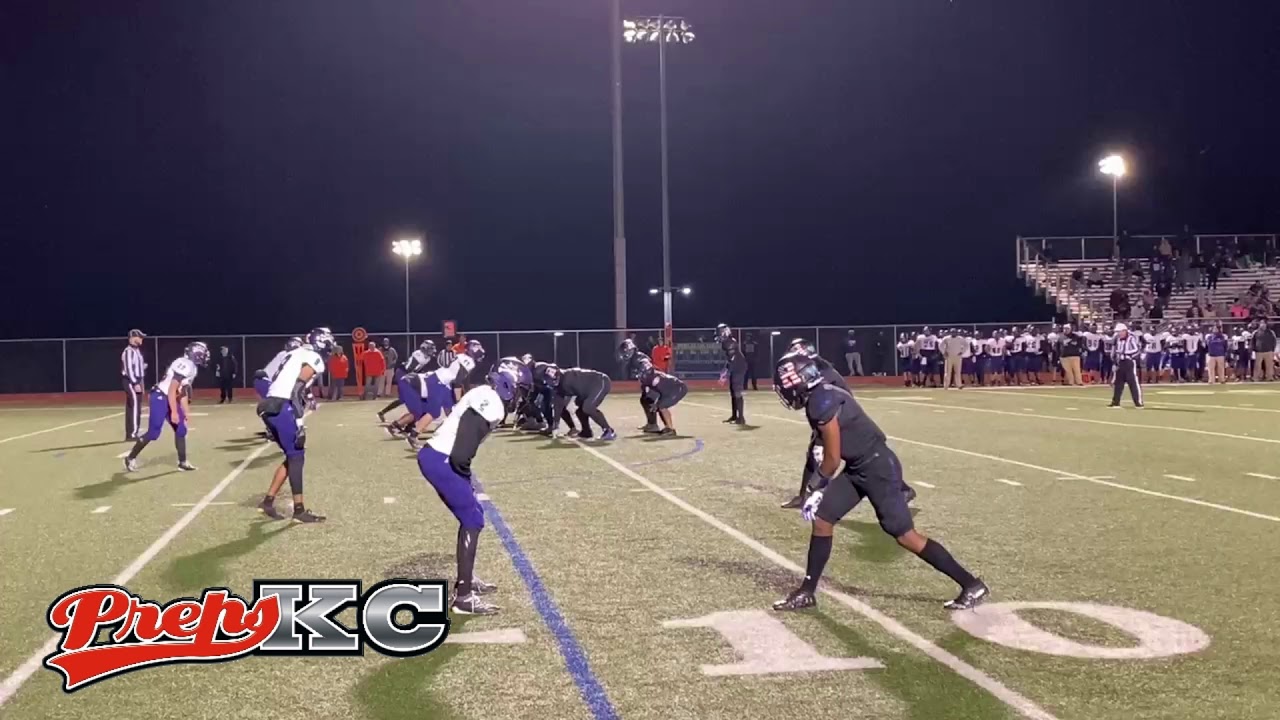 "That big defensive stand before the half was huge," Minnick said. "The difference between 21-14 and 21-7 is big. That was a huge momentum play."
The Bluejays seemed to carry that momentum back onto the field in the second half. After the defense forced a three-and-out, another solid punt return from Key gave the offense a short field. Seven straight running plays followed, and quarterback Joe Campbell found the end zone from 4 yards out for a 28-7 lead.
Three plays later the Bluejays recovered a Hornet fumble and didn't waste any time capitalizing. Campbell found Key for a 40-yard touchdown pass to make it 35-7.
"That was the most complete game we've played," Minnick said. "The momentum got rolling."
It kept rolling into the fourth. After Key's second long punt return set the Bluejays up at the 1-yard line, Manning strolled into the end zone for the third time. Three minutes later Campbell found Jaheim Burkes for a 26-yard touchdown pass and a 48-7 lead.
"Anybody can get the ball and make plays," Key said. "It's the perfect offense."
It was a nightmare scenario for the Hornets who came into the game with a spotless 8-0 record and an explosive offense that had been held under 35 points only one time all year.
"I put the responsibility on myself. We were not prepared to play," Hornets head coach Leon Douglas said. "We didn't get much going in any aspect of the game, whether it was defense, offense or special teams. They got after us.
"If anything, it's an eye-opener. When you are winning and things are going well, it's hard to address things you need to work on. We'll go back and look at this one and get things fixed and corrected."
The Hornets tried to get their ground game going but Brown needed 30 carries to churn out 119 yards. DeShaun Collins and Manning were all over the field, as they each tallied nine solo tackles and multiple tackles for loss to help take away big plays the Hornets are used to getting.
"The defensive guys were in great position tonight," Minnick said. "We put both D'Vontae and Dontae on the field to get more speed. Every game they've (North Kansas City) gotten 60- and 70-yard runs. We felt like if we had enough speed, we could hold those runs to 15 yards instead of 60."
The game plan was a resounding success, as the Bluejays head into the playoffs with a 7-2 record. Both teams have a week off before returning to action Nov. 8. Raytown is looking to avoid losing to a lower seed in the playoffs for the third straight year.
"I'm a senior," Key said. "I'm done playing high school football with a loss. We need everyone to have that same mentality. It's win-or-go-home."