Photo Credit: Michele Gress/Special to PrepsKC
Stop me when this starts to sound familiar.
Bishop Miege bolts to an early two-score lead, only for St. Thomas Aquinas to methodically take control and pull away thanks to a spectacular, 300-yard, 3 touchdown performance from running back Tank Young.
One of the city's premier rivalries had a strange sense of deja vu about it, as the script played out in similar fashion as the 2018 clash. And just like last year, the Saints claimed another EKL championship during a 45-32 victory on Friday at Doll Dixon Stadium.
In a matchup of defending state champions, each of them ranked No. 1 in their respective classes, Miege gained the upper hand in a hurry.
Brison Cobbins reeled off a 40-yard touchdown run on the opening drive, and then Timothy Dorsey found a wide-open Daniel Jackson on Miege's next drive, putting the Stags in control in front of a lively crowd.
But it was nothing new for Young and the Saints, who also overcame a two-score deficit in last year's game against Miege.
"Last year, they came out the same thing, 14-0," Young said. "We had to come back and fight and get the W."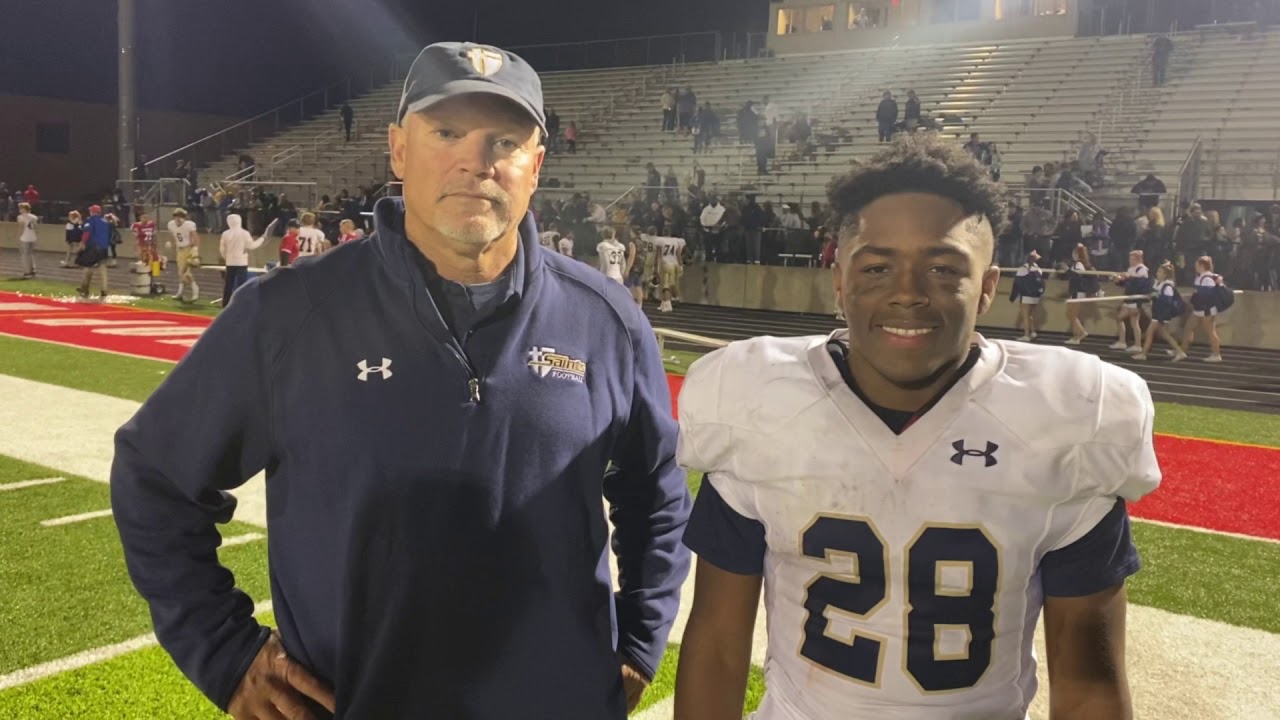 On the very next drive, Saints' quarterback Blake Anderson tossed a touchdown pass to Finn Barnett, which sparked the rally. Young's hard running moved the chains over and over again, and he ultimately found the end zone on the next two drives. Aquinas never gave the lead back after that.
"We just kept pushing, kept smacking them in the mouth, kept talking to my o-line" Young said. "I made sure they kept going and never backed down."
But Miege stood strong and made some crucial stops shortly into the third quarter.
After limiting Aquinas to a field goal to end the first half, the Stags came up with a strong goal-line stand that kept it at a one-possession game.
The Saints' defense rose to the occasion, though, forcing quick stops on the next two drives. That prevented Miege from picking up any momentum and gave the ball right back to Aquinas' punishing offense.
"I know we gave up 32 points, but our defense made some key stops in the second half," Aquinas coach Randy Dreiling said. "It was fun to be a part of."
The same can be said for an otherworldly showing by Young. The junior standout rushed 52 times for 303 yards – both season highs – and three scores. Meanwhile, Blake Anderson routinely made plays in the passing game on the way to three passing touchdowns of his own.
"You've got Tank Young on their offense, and he's very tough to stop," Miege coach Jon Holmes said. "He makes some great plays, and then they kill you with the pass. That's what kind of got us tonight a little bit."
The Saints led by as many as 18 points in the fourth quarter before Miege ripped off a couple big plays down the stretch to pull closer. Jackson scored two touchdowns during a fourth-quarter flurry that showcased the Stags' quick-strike potential. But by then, Aquinas had the game in its grasp and recovered two onside kicks in the closing minutes to seal the deal.
Holmes said the result proves that his team can play with any team in the state, and this would be a building block as the postseason approaches.
"Hopefully, our guys see that when we watch the film," Holmes said. "We've got to see the good in it, correct the bad and be ready to roll here next Thursday."
With the victory, Aquinas clinched its second league title in a row and remained undefeated on the season at 7-0. After his team dominated the time of possession, Dreiling praised the way his team kept its focus and executed when it needed to.
"Our league, top-to-bottom, has got some really powerful teams," Dreiling said. "... It's huge for us. We talked about it before game. No matter what the score is, it's a 48-minute game."
Coming off a Class 5A title, the victory gives the Saints even more momentum and belief as they surge toward the postseason.
"This is a big push into the playoffs," Young said. "We've got to keep working and get ready for the next three teams we play."