Photo Credit: Nick Verbenec/Special to PrepsKC
De Soto senior Dallas Williams was not about to let a repeat of the Wildcats' 2018 loss to Basehor-Linwood happen again on Friday night. After the De Soto defense allowed two scoring drives in the first quarter, Williams had had enough.
Williams' 40-yard pick six on the second play of the second quarter sparked 28 unanswered points for the Wildcats, who rolled past the Bobcats for a 28-16 victory to move to 6-0.
"I think that really got us going. We started off slow and they came out and punched us in the mouth," Williams said. "When that (the pick six) happened, it was like a snowball effect. Everyone just kept going. The offense got their heads up and it was just great for everyone."
The Wildcats kept the Bobcats (3-3) off the board for the rest of the first half after Basehor-Linwood built a 9-0 lead. In Basehor-Linwood's 35-27 win over the Wildcats last year, De Soto fell in a 35-7 hole before its fourth quarter rally fell short. De Soto's flex bone offense fed off Williams and the DHS defense on Friday. Junior Tyson Priddy scored twice in the second quarter, first on a 12-yard pass from junior Jackson Miller and second on a 2-yard run just before halftime.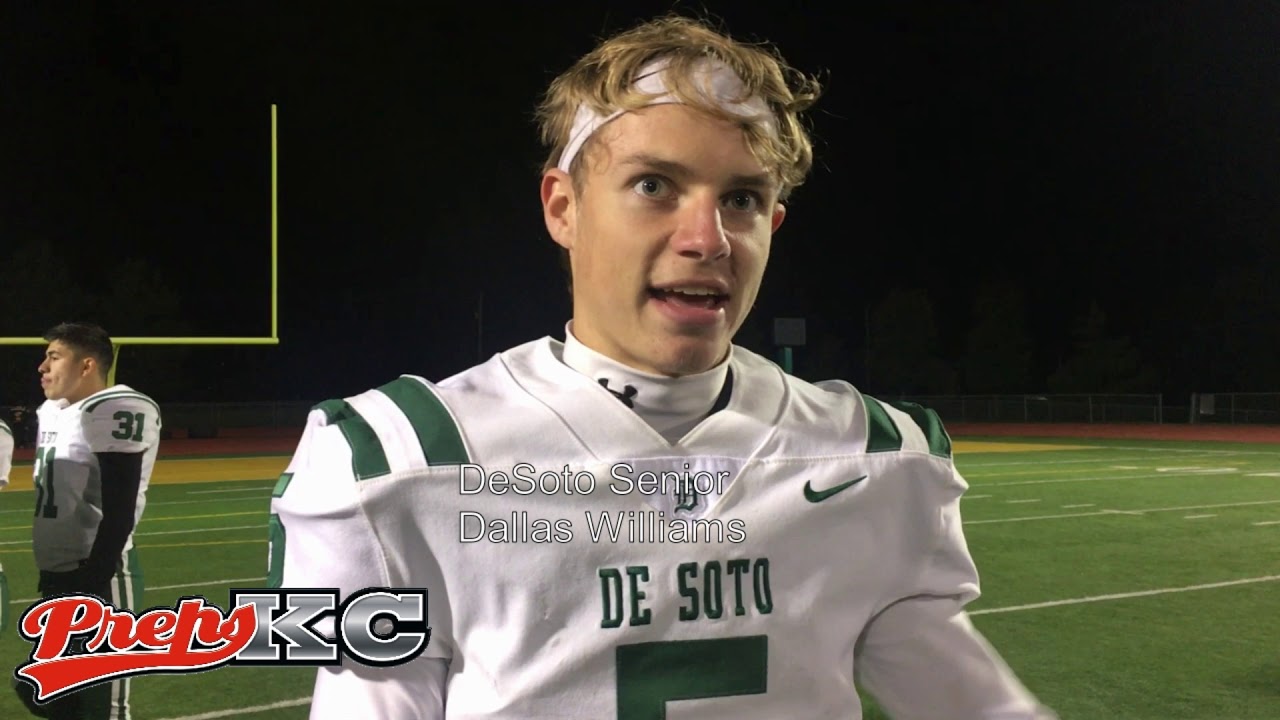 After a scoreless third quarter, Priddy put the finishing touches on the Wildcats' win with an 8-yard touchdown run. Priddy finished with 36 receiving yards and 36 rushing yards to go along with the three scores.
"He's made a big impact. Running the ball and receiving is what people mainly see, but what I'm proud of him with is blocking on the perimeter this year," De Soto coach Brian King said. "He's a lot more of a physical blocker and a lot more of a physical runner. Him and Jake Rosen (two catches for 14 yards, two carries for 22 yards), Russell Coy (17 totes for 103 yards), Garrett Kellner (six touches for 23 yards) all ran really hard tonight and I'm proud of their effort and the offensive line.
The Bobcats put an end to the Wildcats' run of 28 straight points when senior Chase Torkelson found sophomore Jordan Brown for a 12-yard touchdown pass with 4:04 to go, but it was too little too late.
Torkelson had the Basehor-Linwood offense was firing on all cylinders in the first quarter. While the Bobcats' first drive ended in a 27-yard Nate Parkison field goal, they finished their second possession with a touchdown thanks to two clutch catches by junior Ethan Huber. The Bobcat wideout hauled in a 13-yard reception on 4th and 12 to prolong the drive and finished it with an 8-yard touchdown catch.
"We were playing with confidence, that's the big thing. We were playing with confidence and we were playing in rhythm," Basehor-Linwood coach Rod Stallbaumer said. "In the second quarter, we got behind in the field position battle big time and tried to battle our way out of it. That was difficult for us. When we got down, we just didn't play with the same confidence in the second half."
Despite the dreadful second quarter and a scoreless third quarter, the Bobcats threatened to make it a one-possession early in the fourth. The Bobcats were looking to capitalize on a De Soto botched pitch in the Wildcats' red zone with a long scoring drive to make it a one-score game, but Basehor-Linwood had a fumble of its own on 3rd and goal from the DHS 2-yard line to give the ball right back.
"It's just making our reads. We got away from making some of our pre-snap reads and put a little too much pressure on ourselves on some plays," Stallbaumer said. "We had our chances. We've just got to execute better. They're a good team and you can't give them that many opportunities."
Torkelson completed 31 of his 62 passes for 268 yards and tossed a pair of touchdowns and interceptions. Five receivers corralled three or more catches between Brown (five for 54 yards), Huber (eight for 53), Connor Younger (eight for 51), A.J. Cooper (three for 42), Zack Sisemore (three for 35) and Trevor McBride (three for 28).
The Bobcats will try to bounce back at 7 p.m. Friday when they travel to Atchison, while the Wildcats will put their perfect record on the line again when they play host to Shawnee Heights at 7 p.m. Friday.
For more photos from this game go to nickverbenecphotography.com