Photo Credit: Steve Bubalo/PrepsKC
All season long Grandview has been able to count on its defense to keep them in pretty much every game, as their offense has continued to improve and strive for some consistency.
The offense has been better as of late, scoring 48 points three weeks ago and 27 last week. They had another strong performance tonight in a 32-6 win over Raytown South but will have to move forward short-handed for a game due to an unexpected situation during the game against the Cardinals.
Midway through the third quarter a late hit on Grandview running back Michael Kelly sparked a fight leading to six players – three from each team – getting ejected.
Turner and Grandview quarterback Dae'Mond Turner were two of those players, along with lineman Kellen Anderson. Raytown South also lost its quarterback in the brawl, as Tavain Turner was ejected, along with teammates Raevon Carter and Daquaevion Hart.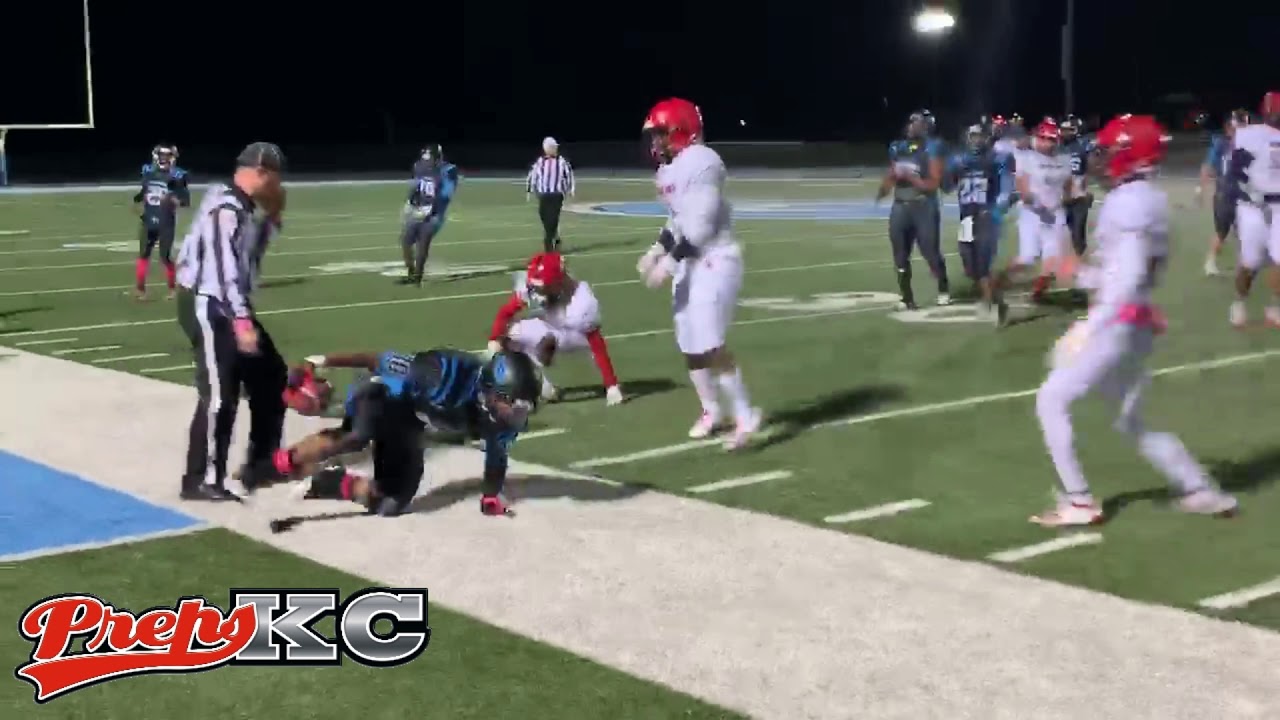 The ejections will leave Turner and Kelly on the sidelines for next week's game against Smithville. Not the ideal timing for an offense that was starting to round into form.
"We were until the ejections," Grandview head coach Jeremie Picard said. "It's going to have an impact."
Before the ejections, the combination of Turner and Kelly had spotted the Bulldogs a 20-6 lead.
After a Bulldog fumble gave the Cardinals a short field that they capitalized on for a touchdown and an early 6-0 lead, Grandview started to take control. They put together three touchdown drives before the half.
"The offense is starting to gel a little bit," Picard said. "We're starting to put things together. … They're starting to understand their roles and what to do, technically speaking. We're reviewing film and guys are getting better. That's exactly what you want as a coach."
Kelly capped the first scoring drive with a 17-yard touchdown run to make it 7-6.
After the defense forced a three-and-out, the offense went back to work with its most impressive drive of the game. They covered 76 yards on 12 plays – eight runs and four passes – with Turner finishing the drive with a 1-yard touchdown run on fourth-and-goal.
Late in the second quarter the Bulldogs recovered a fumbled snap at the Cardinal 5-yard line and Turner got his second score, this time on a 4-yard run, for the 20-6 lead.
"He (Turner) wasn't a quarterback, originally. He's a natural runner," Picard said. "The threat of him running holds defenses and opens up lanes. And Michael is such a physical runner. If we can open the box, he plays downhill."
Raytown South had a pair of chances to get back in the game early in the second half, as they recovered a Bulldog fumble on the kickoff return to start the half. They began the drive on the Grandview 44 but turned it over on downs after a fourth-and-goal pass fell incomplete.
They got the ball on their next drive once again in great field position, the Bulldog 43, but went three-and-out and were forced to punt.
They wouldn't get the ball in Grandview territory the rest of the game.
"Those were pretty critical to keep the momentum on our side," Picard said of those two defensive stops. "We've come to expect it from our defense. They're the one thing we can hang our hat on all year. They've done everything under the sun to hold us up."
Grandview tacked on a couple of touchdowns in the fourth quarter. Backup quarterback Christopher Connor found Damien Stephens for a 7-yard pass, and Antone Grant scored on a 3-yard run to make it 32-6.
After Grant's touchdown, tempers started to flare again and both teams agreed to end the game with five minutes, 58 seconds left.
Raytown South dropped to 2-5 on the season and will travel to Kearney next Friday night. Grandview is now 3-4 and they will play at Smithville.