Photo Credit: Michele Gress/Special to PrepsKC
Friday night was a night of missed opportunities for Blue Valley West as St. Thomas Aquinas raced out to a 20-point lead and didn't look back in its 35-21 win over the Jaguars.
On their open drive of the third quarter Finn Barnett went 33 yards less than three minutes into the second half to extend the Saints' lead to 35-7, but Blue Valley West scored 14 unanswered points to cut the lead to two scores with 5:38 left in the game to give St. Thomas Aquinas a scare.
On the ensuing drive, the Saints ran out the clock, but not before it recovered three fumbles on poor exchanges between the center and back-up quarterback Thomas Manske or between Manske and Will Thompson.
"You have to go back to the first half," Saints coach Randy Dreiling said. "We had a couple scores – long drives we made penalties. Too many bad mistakes. The second half was a strange half. We did some dumb things – hats off to them. [Blue Valley West coach Josh Koerkenmeier] subbed and their JV is way better than our JV. We'll find out Monday night."
In the first half, Tank Johnson ran for three scores and he would have had a catch and run at the end of the first half if not for a holding call.
On that possession where the Saints ended up getting nothing, Dreiling executed a flawless two-minute drill, where he called timeouts after every stop and forced the Jaguars to give the ball back to St. Thomas Aquinas with about 45 seconds left in the half.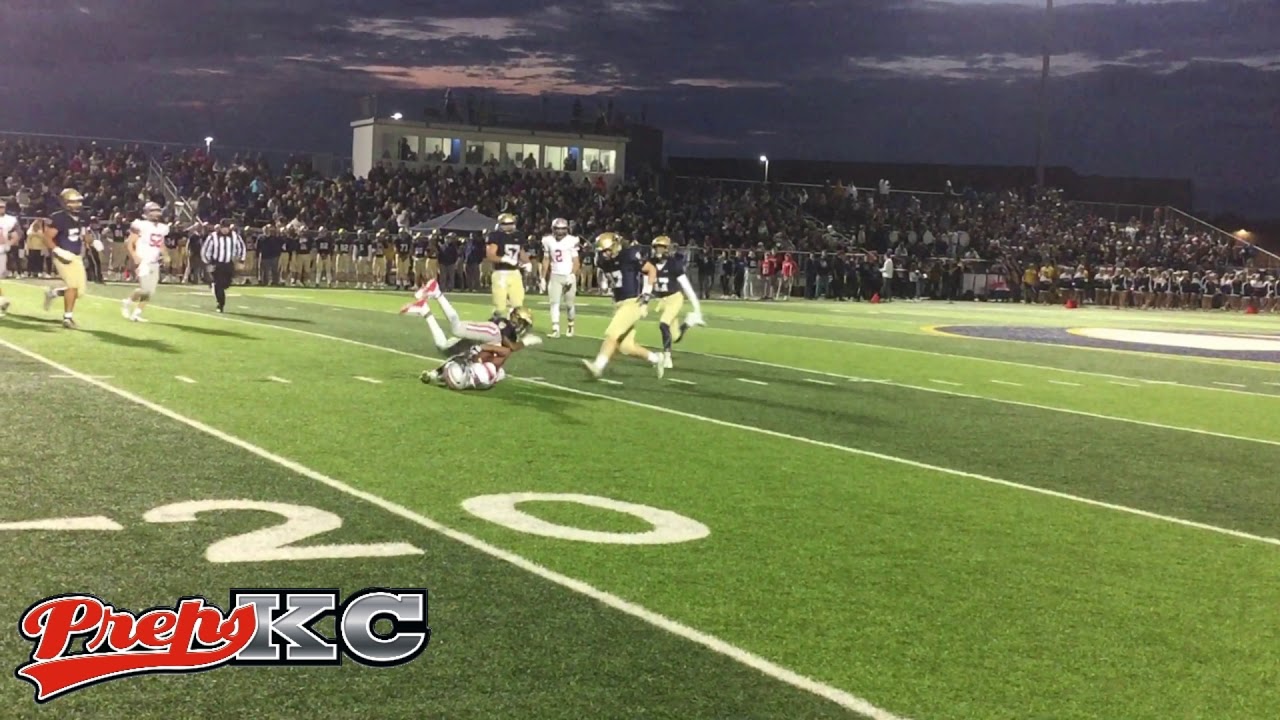 "We had a holding penalty," Dreiling said. "We made too many mistakes. We should be able to move the ball without Tank."
Young finished the night with 199 yards on the ground.
The miscues started early for Blue Valley West as they couldn't move the ball on its first two drives. On the third drive, the Jaguars got into the red zone, but a Riley Cummings fumbled at the 10-yard line was recovered by St. Thomas Aquinas.
"We had a lot of opportunities and we didn't take advantage of them," Koerkenmeier said. "We made some mistakes to put us in tough situations in every phase of the game and feel like we competed well and played hard, but when you make mistakes like that against a good team, that's what happens.
"We put ourselves in a hole and our offense – when we don't get rolling, we're not very good and when we get rolling, we're really good. We have to be more consistent on offense."
Blue Valley West got scores from Riley Cummings, one-yard run, Dejean Price, 57-yard run and Braxton Symonds, a 14 yard pass from Gage Roach.
St. Thomas Aquinas hosts St. James next week while Blue Valley West heads to Blue Valley Northwest.