Photo Credit: Lori Habiger/Center Stage Photography
After watching his team from the sidelines for much of his junior season due to a knee injury in the 2018 opener, Bishop Miege senior Daniel Jackson is doing his best to make up for lost time in 2019.
Jackson had one of his most memorable games yet on Friday night in the Stags' 42-35 win over Mill Valley. After the Jaguars erased a 25-point second half deficit, Jackson stunned a raucous Mill Valley home crowd with a kick return for a touchdown with 35 seconds remaining to put the Stags ahead for good.
"Going out there, I really didn't expect them to squib kick it—especially to me because I know they've scouted me and everything. Once I saw the ball bouncing to me, I knew I had to take my shot," Jackson said. "I knew I had to do it for my team and do my best to score. Seeing those two holes back to back, I just busted one and then on the sidelines I cut up and I knew they wouldn't be able to catch me."
The kick return was Jackson's third touchdown of the night—all three coming in a different variety. Jackson jump-started the Stags with a 10-yard touchdown run on their first possession and then hauled in a 9-yard pass from junior Timothy Dorsey in the final two minutes of the first half.
"I've only had three touchdowns three times in my career," Jackson said. "This being a game-winner, it's very special."
After Dorsey found the end zone on a 19-yard run with 10:04 left in the third quarter to give Miege a 35-10 advantage, it looked like it would be smooth sailing for the Stags to push their record to 3-0. Mill Valley junior quarterback Cooper Marsh had other ideas, though. Two of Marsh's three rushing touchdowns came in the fourth quarter to ignite the Mill Valley comeback.
"A lot of grit. A lot of toughness," Mill Valley coach Joel Applebee said of Marsh. "He's such a good kid and he works his butt off. He's only going to get better."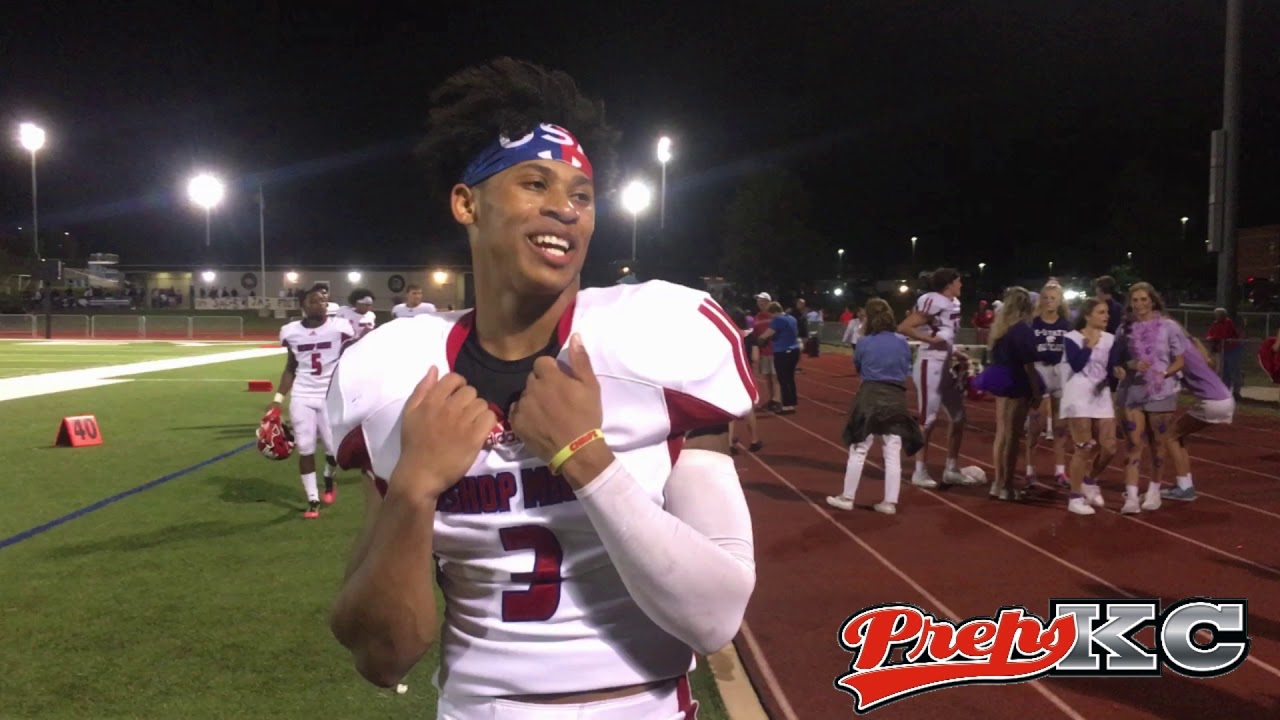 While Marsh did a lot of damage with his legs, racking up 129 yards on 21 carries, he also made some clutch throws to give the Jaguars a chance in the fourth. The junior signal caller converted two fourth-down passes on the Jaguars' second-to-last drive to help Mill Valley tie it up at 35-35. Senior Tyler Green punched it in from 3 yards out with 41 seconds to go within two before Marsh hauled in the 2-point conversion pass from sophomore Kendrick Jones on a trick play to pull the Jaguars level with the Stags.
"They showed a lot of mental toughness with the way they came back out and played in the second half," Applebee said. "We just kept telling them that you've got to get rid of the negative plays and they did a really good job of that the second half."
Marsh completed 14 of 29 passes for 225 yards and three interceptions. Eight of those completions went to Jones, who tallied 107 receiving yards.
The Jaguars made their second-half charge with one of their best offensive players on the sidelines. Junior Quin Wittenauer did much of the heavy lifting on the Jaguars' first scoring drive but had to be helped off the field with a minute remaining in the first quarter and didn't return. Wittenauer had eight carries for 40 yards before exiting with the injury.
The Stags were extremely effective on the ground in the first half as well, with senior Brison Cobbins breaking big run after big run. Cobbins finished with 20 carries for 185 yards and two touchdowns.
"I felt really good, honestly. The O-line did their job and I got going downhill," Cobbins said. "God always helps me, too, but I just trusted my line."
Miege coach Jon Holmes liked what he saw from Cobbins, but he was in agreement with his star running back that they have to eliminate some mistakes to put teams away in the second half. Holmes believes his team can learn a lot from Friday's instant classic against the Jaguars.
"That's now two of our three games where we've had to fight through adversity—the one against (Blue Valley) North and then tonight," Holmes said. "That makes your football team stronger. If you go through that early in the season, that's really going to help you make a run at the end of the season."
The Stags will be back in action at 7 p.m. Friday when the play host to St. James. The Jaguars will try to get back to the .500 mark when they travel to St. Thomas Aquinas for a 7 p.m. Friday kickoff.