Photo Credit: Jeff Stead/PrepsKC
Seeking to put the game away for good, Staley dialed up its primary playmaker – senior receiver Ramon Shelton.
And once again, he delivered.
Shelton's third touchdown of the game helped the Falcons close out a 37-21 victory against Park Hill South in a state-ranked matchup that had major implications in the conference and district standings.
Ranked No. 2 in the Class 5 rankings, Staley never trailed in the game, but showed its resiliency against Park Hill South (No. 10 in the Class 5 poll) to remain undefeated at 4-0.
Staley coach Phil Lite said he was glad to see his team overcome some adversity in the second half to stave off such a resurgent opponent.
"It was a four-quarter game of adjustments," Lite said. "That's exactly what we had to do, stay within ourselves and just get our playmakers the football."
The Falcons soared to a great start thanks to its defense and special teams, which blocked a punt out of the end zone to put them on the scoreboard. On the ensuing possession, Shelton made a marvelous catch against two defenders to put the Falcons in front.
"We talk about getting the lead starting early, and that's what we had to come out and do," Shelton said.
Following a Park Hill South touchdown, Staley added to its lead during the second quarter thanks to touchdowns from running backs Mylan Mitchell and Dermont Marshall. On the first possession out of halftime, Shelton took a jet sweep around the left side for a 78-yard score that threatened to turn the game into a blowout at 30-7.
But the Panthers (2-2) had other ideas.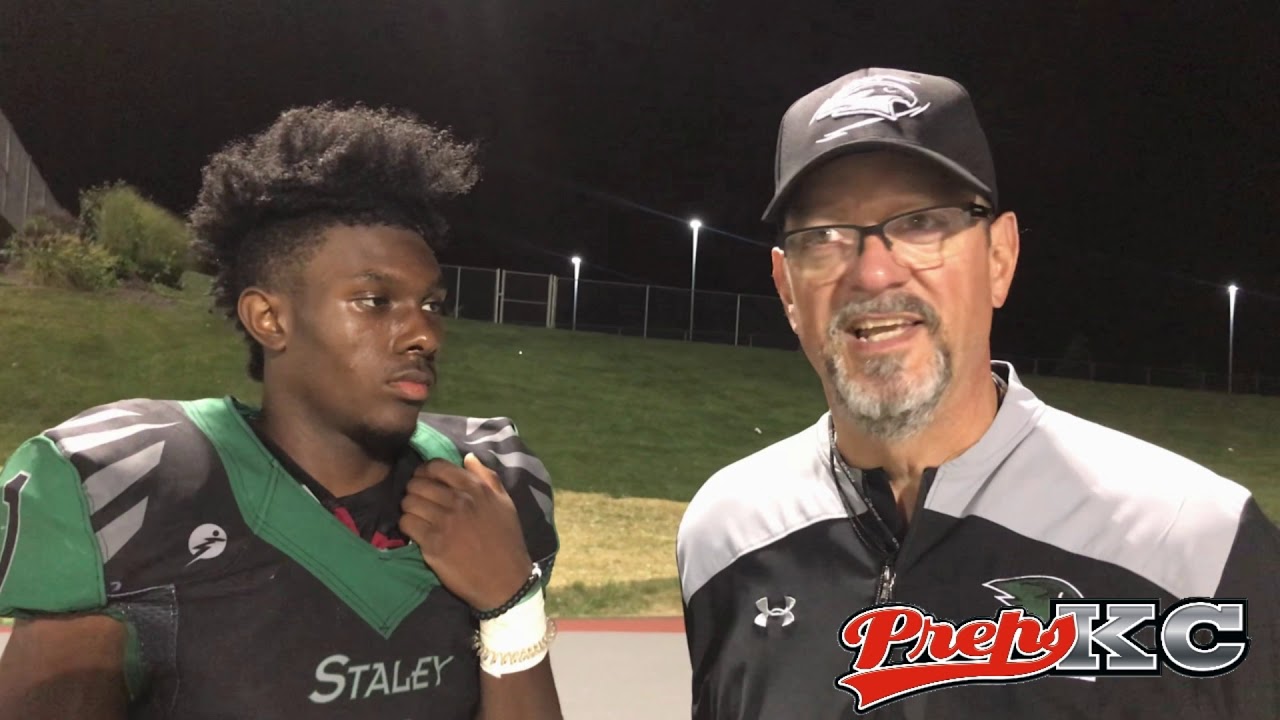 Senior quarterback Matt Suchanick led back-to-back scoring drives for Park Hill South to put pressure right back on Staley. Suchanick displayed his dual-threat abilities by rushing for one score and throwing a perfect strike to standout receiver Gaige Warren.
All of a sudden, the Panthers were within single digits, 30-21, and seized the momentum at just the right moment. Coach Alan Wilmes praised the team's seniors for leading the charge and fueling the comeback effort.
"They've really bought in and brought this team along," Wilmes said. "Their ability to keep playing hard and never give up, that's what kept us in the game."
But that's when Staley's defense asserted itself to prevent any further damage. The Facons forced three-and-outs on the next two drives and then came away with an interception from Jaylen Newberry, preventing Park Hill South from making it a one-score game.
Lite said he was glad to see the team display so much resilience after a rocky stretch during the third quarter.
"They did an outstanding job," Lite said. "It was great to see our kids stay within themselves, and that's what we talk about with adversity. Take a deep breath. Stay within themselves. And just concentrate on what we do best."
Meanwhile, Falcons' quarterback Dawson Parks put his own dual-threat abilities on display on consecutive drives to salt the game away. He reeled off several big runs, and then tossed a touchdown grab to Shelton in the final minutes that sealed the deal.
"We just had to come together," Shelton said. "We were fighting adversity the whole time. We had to come together and do what we had to do to get the victory."
Parks threw for 159 yards and three touchdowns and ultimately led the team in rushing with 86 yards, while Shelton tallied 71 receiving yard and 78 rushing yards on just one carry, which went for a touchdown.
For Park Hill South, Suchanick also led his team in passing and rushing, taking part in all three scores. Eric Avery led the squad with 71 receiving yards, while Warren went for 40 yards and touchdown.
Wilmes said he was pleased to see the Panthers battle back in the second half, but he also saw some areas for improvement that could help the team keep making strides the rest of the way.
"We just told them to keep playing hard and doing their job, and good things happen. And they did," Wilmes said. "If we can eliminate mistakes, the score might be different. But when you play Staley, you can't make mistakes."