Photo Credit: Steve Bubalo/PrepsKC
The Blue Springs defensive line was wreaking havoc on the Rockhurst offense for a good chunk of Friday night's game, and on the most important play of the game, they were able to do it one more time.
Jackson Boyd hit Hawklet quarterback Nick Smrt as he rolled out on a two-point conversion attempt with 20 seconds left, forcing Smrt's throw to fall well short of its intended target to preserve a 17-16 Blue Springs win.
"(Defensive coordinator) Matt (Marble) said he was going to bring it and I said, "yes, bring it"," Blue Springs head coach Kelly Donohoe said of the pivotal play. "…The kids played with such toughness tonight. We had several injuries and we just kept fighting."
This could have been Tony Severino's last game he'll ever coach against Blue Springs (2-0) as head coach of Rockhurst (1-1), and win or lose, he made sure it was going to be a game to remember.
After his offense put together a nine-play, 91-yard touchdown drive in less than 2 minutes to pull within 17-16 of the Wildcats, Severino had no plan for this game to go into overtime.
"Never," Severino said when asked if there was any hesitation to go for two. "When you come back like that with 20 seconds left, the worst thing you can do is go for the tie."
The move did shock Donohoe.
"I thought he was going to kick it," Donohoe said. "I was looking at our script for overtime."
The finish was typical of what the Blue Springs-Rockhurst rivalry is. Early on, it looked as if the Wildcats might run away with things, but unsurprisingly, the game turned into another knock-down, drag-out affair.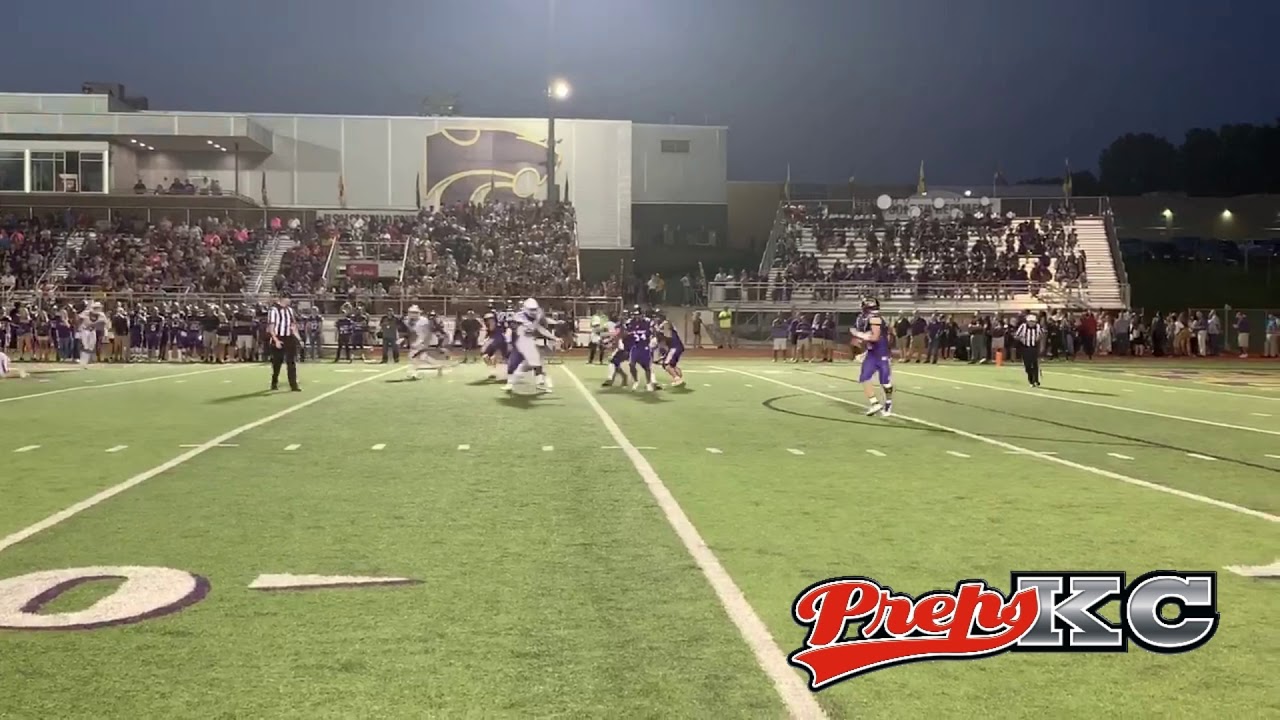 Blue Springs and quarterback Dom Harkness started fast, driving down and scoring on its first drive when Harkness found Stefan Black II for a 21-yard touchdown pass. Rockhurst would fumble on its first play of the game on the ensuing drive, giving the ball back to the Wildcats. Harkness would take advantage, this time finding Cooper Willich on a 29-yard strike for a 14-0 lead midway through the first quarter.
"We threw a lot at them. We wanted to throw down field," Donohoe said. "They weren't ready for Stefan's speed on that first touchdown, and Cooper ran a great corner route on the second one. Dom had a couple of great balls."
But Rockhurst responded two drives later when Max Williams scampered in from 8 yards out for a score to cut the deficit to 14-7.
After a combined seven punts in the second quarter, Rockhurst managed to string together a few plays before half to get in position for a 47-yard field goal from Owen Lawson to make it 14-10.
Fredy Romero kicked an important 32-yard field goal in the third quarter for Blue Springs to make it 17-10, but the defenses continued to dominate play in the second half.
Rockhurst managed just four first downs in the second half until its final drive. T'Andre Forbush and the rest of the Blue Springs defensive line were a menace to Smrt all game, sacking him five times, with Forbush being in on at least two of those. They also held the Hawklet rushing attach to just 67 yards.
"We wanted to punch them in the mouth," Forbush said. "We wanted to be relentless on every play."
Added Donohoe, "The game plan was to pressure hard. The guys did a great job with that. …He (Forbush) did a really nice job. He's really stepped up. We knew he had it in him and he's starting to bring it."
In the end, both coaches went home feeling pretty good about their teams.
"Our guys were unbelievable," Severino said. "It's not often you lose and feel good (as a coach). I found something out about this team tonight. You want to see them compete, and tonight they competed."
The sentiment was similar from the winning sideline.
"I can't remember the last time we had such a fun team win. So many guys contributed," Donohoe said. "It's special to be a part of this rivalry. I hope to see Tony again. If this is the last time, what a way to finish."