Photo Credit: Nick Smith/PrepsKC
Leading by seven with under four minutes to play, Bishop Miege needed one last defensive stop. Then the Stags, backed up to their one-yard line with 3:11 left, had to pick up three first downs to melt the clock.
The Stags' defense forced a punt, and the offense converted on three third-and-long situations in the closing minutes to hang on for a 27-20 season-opening victory over visiting Blue Valley North.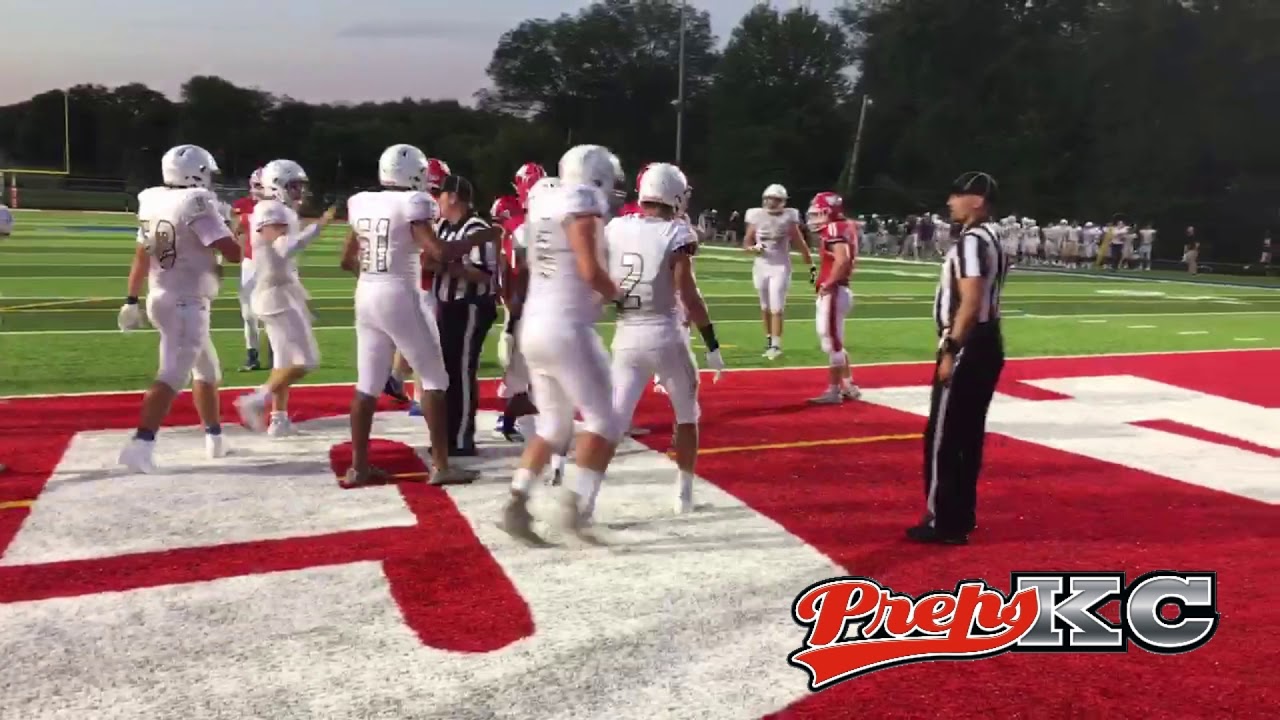 Junior quarterback Timothy Dorsey completed two third down passes to junior tight end Mack Moeller. Then on a third and eight, Dorsey scrambled for a 26-yard gain to seal the victory.
"I think in week one if you can win a game like this, that's a heck of a win," said Bishop Miege Head Coach Jon Holmes. "That's a really good football team that we just beat. We wanted to know what he had as a football team early in the season. I think we found out we got guys that love each other first and foremost and want to make a play when they have to."
In a match-up of teams with state championship aspirations, the five-time defending Class 4A champion Stags jumped out to a quick 7-0 lead. Blue Valley North's Henry Martin was picked off on the first play from scrimmage by Rishi Rattan. Rattan fumbled into the endzone, and the loose ball was smothered by the Stags' Grant Fussell for a touchdown.
Senior Brison Cobbins, who rushed 15 times for 75 yards, scored a pair of touchdowns, and Bishop Miege had a 20-0 lead in the first quarter.
Blue Valley North, a Class 6A state finalist last fall, grabbed the momentum in the second quarter with its short passing game. A one-yard touchdown run by Kahlil Allen cut the Miege lead to 20-6. After forcing Miege to punt, the Mustangs converted on fourth-and-2 from the five-yard line. Martin found a wide-open Theo Grabill in the corner of the endzone for a score. The Mustangs' Timothy Foster sacked Dorsey for a safety, and Blue Valley North only trailed 20-14 at halftime.
Bishop Miege opened the third quarter with a 78-yard scoring drive. Dorsey threw a 24-yard dart to Phillipe Wesley for a 27-14 lead.
North answered when Martin hit Shawn Hendershot for a 15-yard touchdown, cutting the lead to 27-20.
The number-1 ranked Stags played their first home game on their newly dedicated, $800,000 field turf and track. The Stags will travel to Blue Valley West next week. Blue Valley North will try to bounce back next Friday night against Blue Valley.