Photo Credit: Andy Meyer/PrepsKC
KEARNEY, Mo. – It took a little time for Staley to completely click into gear. But once it did, the entire team resembled a well-oiled machine.
The Falcons (2-0) delivered a dominant second-half performance on the way to a 52-19 victory against Kearney (1-1) in a matchup of state-ranked teams.
Tied at halftime, Staley excelled in all phases after halftime, reeling off 33 consecutive points in the second half on the way to a statement victory against another traditional Northland power.
"We were able to go in at half and regroup," Staley coach Phil Lite said. "I've got to give my coaching staff credit. We made some adjustments and were able to take over in the second half."
Things couldn't have started much better for Kearney after senior Jake Stevens took the opening kickoff back 92 yards for a touchdown. After a stop on defense, the Bulldogs built a two-score lead when Stevens hauled in a deep pass from sophomore quarterback Ian Acosta to go up 13-0 not even five minutes into the game.
Despite trailing by two scores in the opening minutes, Staley never seemed frazzled.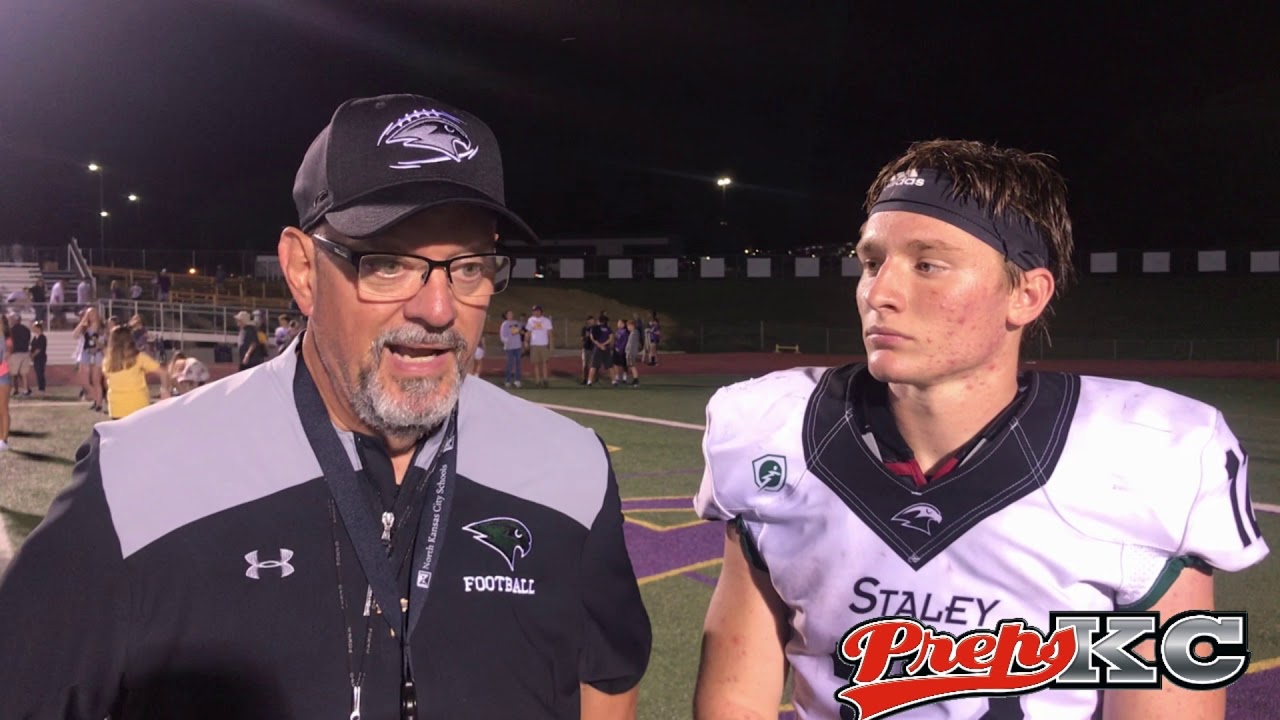 Senior quarterback Dawson Parks tossed a touchdown to Trevor Dusenbery on the ensuing drive and led two more scoring drives in the second quarter – finished off by rushing touchdowns by Koa Grace and Dermont Marshall, respectively.
Parks said he was glad to see the Falcons handle the early adversity well and regain their composure right away.
"We do it every day in practice. We've done it all summer," Parks said. "I told my team, 'Hey, keep your heads up.' We've got a whole other half, another drive, another opportunity."
Stevens once again showcased his explosiveness for Kearney and scored another kickoff return – this time from 93 yards out – to level the game at 19-19 going into halftime.
Bulldogs' coach Josh Gray was glad to see the strong start from his squad, and he saw some positives to build on despite the result.
"Obviously, that was great momentum going into that first half," Gray said. "I thought we played pretty efficiently and did some nice things.
"We had to make sure to start the game right. Now we've just got to learn to put two halves together."
The real turning point came when Staley blocked its second punt of the game deep in Kearney territory and returned it to the 1-yard line early in the third quarter. Anderson Hendershot rumbled in for the score on the very next play, and the Falcons seized the momentum from there.
They scored on their next four drives and showcased an exceptionally balanced offensive attack that saw six different players score touchdowns – including two apiece from Marshall and Fabian McLeod.
Parks racked up 272 passing yards and three touchdowns, while Ramon Shelton hauled in 10 passes for 158 yards and a remarkable touchdown that saw him beat double coverage and break another tackle at the goal line.
In all, Staley amassed 614 yards of offense and didn't allow Kearney a first down after halftime.
Lite indicated there were still some areas to clean up but was mainly pleased with the way his team finished on such a strong note against a high-caliber opponent like Kearney.
"This is a big rivalry between the two communities," Lite said. "To come over here and play a really tough Kearney team on the road and find a way to win, that's huge for us.
"... We've got a lot of work to do, and a lot of things to clean up still. But I like what I see."