Below are the video preview and story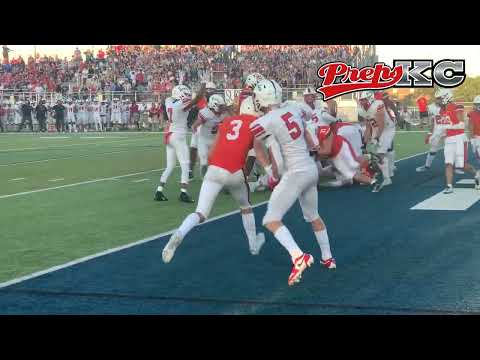 Let's get ready for week 4 of the 2023 high school football season with this week's RE/MAX Big 3 games. We start in Kansas where Mill Valley travels to Shawnee Mission Northwest in a Sunflower League battle. The Jaguars are the four-time defending Kansas Class 5A champs and they look like they picked up where they left off from last season. Shawnee Mission Northwest fell to Olathe North last week but the Cougars have been one of the most consistent programs in the Sunflower League the last few seasons so expect a good game Friday night.
Our next Kansas RE/MAX Big 3 game is Shawnee Mission North at Olathe North. The Bison have proven they can score points in their first two games. They are hoping to take that offense on the road and put up scores in the 40s as they have in an overtime win over Shawnee Mission South and a 54-45 shootout loss to Olathe South. The Eagles have shown the ability to score averaging close to 40 points in its first two wins. Olathe North's defense has solid allowing just 18.5 points a game in the first two weeks of the season.
The final RE/MAX Big 3 game is Spring Hill at Eudora in a Frontier League battle. The Broncos travel to Eudora coming off a big win over Tonganoxie 36-29. Eudora has been absolutely dominant outscoring Baldwin and Bonner Springs by a combined 103-15. The Cardinals are playing as well as anyone in the first two weeks of the season but this will definitely be their toughest test of the season so far.
Let's take a look across state line at or first Missouri RE/MAX Big 3 game as Grain Valley travels to Platte County in a game that has district and conference implications. The Eagles are looking to get back in the win column after suffering its first loss of the season 32-31 to Oak Park last week. Platte County is off to perfect start winning close games over Kearney and Smithville the first two weeks before flexing its defensive muscle in a 17-0 shutout at North Kansas City last week.
Our next RE/MAX Big 3 game is Staley at Lee's Summit West in a Missouri Class 6 showdown. The Falcons go on the road trying to bounce back from a tough 21-14 loss to Lee's Summit North. The Titans stand at 3-0 after opening the season with a come from behind overtime victory at Liberty. West then followed the opening win with convincing victories over Blue Springs and Park Hill South.
The final RE/MAX Big 3 game is one of the best rivalries in the Metro as Oak Grove hosts Odessa. The Bulldogs started the season with a come from behind win over Southern Boone but have since been dominant with wins over Clinton and Mexico outscoring those teams 95-12. The Panthers offense is rolling scoring at least 45 points in each of their wins. The defense has been good allowing 7 points to Lawson and shutting out Center but Richmond scored 26 in what started out as a back and forth contest.