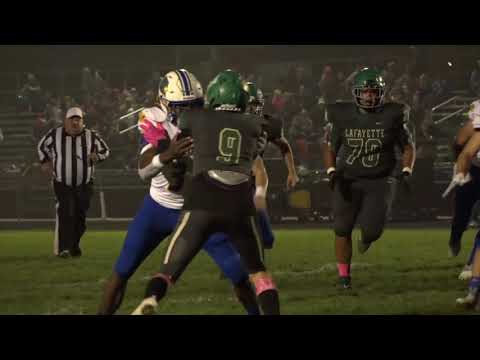 We are getting closer to crowning state champions on both sides of the state line so lets take a look at this week's RE/MAX Big 3 Games.
We start on the Missouri side where Fort Osage heads to Grain Valley for a Class 5 quarterfinal matchup. This is a rematch from a regular season game won 9-8 by Fort Osage. The Indians come in fresh off another come from behind playoff win this time over Platte County 22-20. Fort Osage would prefer to not be in another close game but they face an Eagles squad that had a close win of their own beating Raytown 38-37 in triple overtime after tying the game at 17 with a touchdown with no time left in regulation.
The next RE/MAX Big 3 game is Lincoln Prep hosting Smithville. This battle of undefeated teams is one of the best in the state. The Warriors hit the road looking to return to the Class 4 semifinals for the second time in three years. Smithville brings a talented offense and stingy defense that has allowed no more than 14 points in any game while scoring 40 or more points in six of their 10 games.
Our final RE/MAX Big 3 Game on the Missouri side is St. Pius X at Pleasant Hill in a Class 3 quarterfinal. The Warriors made a run to the Class 2 state championship game last year before losing to Lamar. This season St. Pius X has backed up that effort with a 10-1 season and a Class 3 district title. The Roosters counter with an offense that is on fire. Pleasant Hill has won three straight postseason road games averaging 45 points and coming from behind in each of those wins.
The first RE/MAX Big 3 game on the Kansas side is St. James hosting Bishop Miege. This a rematch of last year's Class 4A semifinal won by St. James. The Thunder ended Miege's six-year run as 4A champs on their way to the first football title in school history. This is also rematch from the regular season that the Thunder won as well.
The next Kansas RE/MAX Big 3 game is another rematch from last year's semifinals as St. Thomas Aquinas travels to Mill Valley to play for a spot in the 5A title game. The Saints quietly have put together a late season charge that has seen them win five straight with wins over teams like 6A semifinalist Blue Valley Northwest and DeSoto last week. Aquinas has used a familiar formula of a potent rushing attack and a defense that has held opponents under 17 points in every game of the winning streak. Mill Valley is looking to get back to the title game for the third straight year and are looking to become champions for the fifth time in the last seven years.
Our final RE/MAX Big 3 game is Blue Valley West at Blue Valley Northwest. This all EKL matchup features a West team that was last in the semifinals in 2013 and a Huskies' squad that hasn't been this far since 1999. This is another rematch from a game played earlier in the season won by Northwest 21-0.