Let's take a look back at the top games from 2019 with the highlights and game stories from those contests.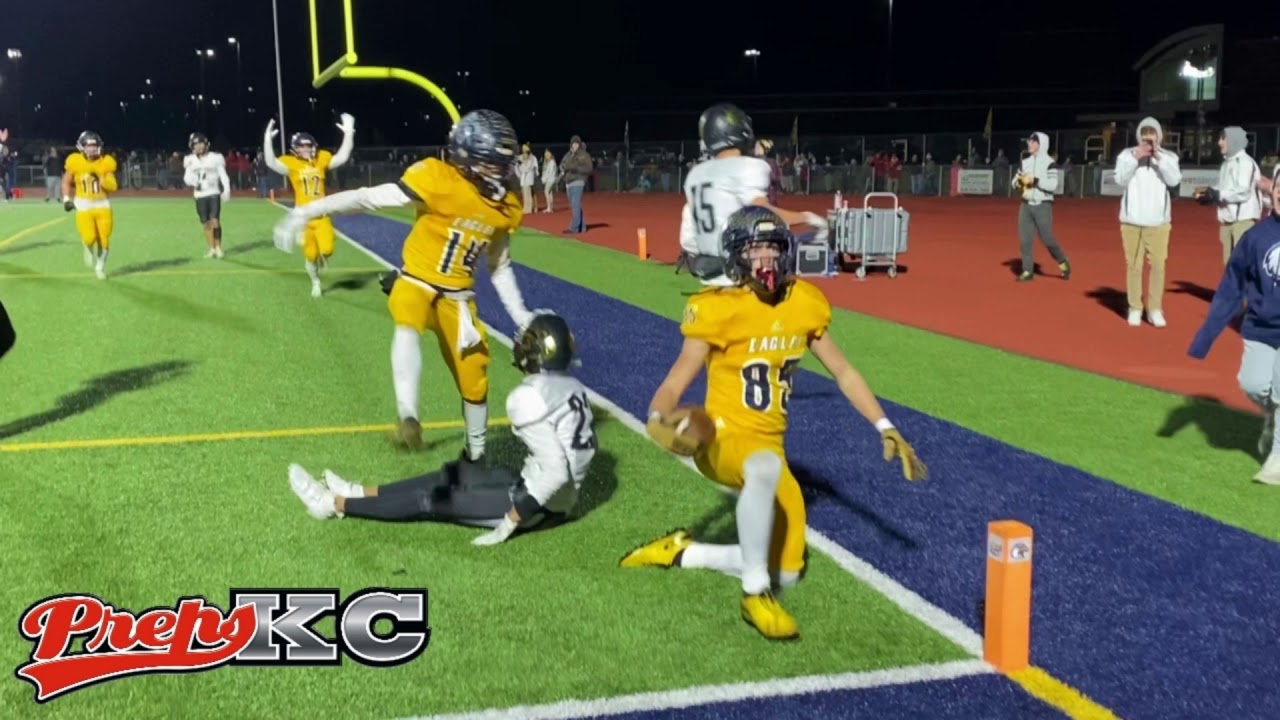 Mill Valley 34, St. Thomas Aquinas 31 - Kansas Class 5A semifinals
By Mike Lavieri
The two words to describe the overtime thriller of St. Thomas Aquinas-Mill Valley: Part Six is instant classic.
Every year since 2014 these two teams have squared off in the playoffs and the winner of the game has gone on to represent the east side of the 5A bracket. It just so happened that Friday night was for a state championship berth.
On Friday night, Mill Valley evened the playoff series at three wins apiece with a comeback 34-31 victory.
Tyler Green plunged in from six yards on the second play of Mill Valley's overtime drive to stun the Saints and spoil their undefeated season.
"Right up there," Mill Valley coach Joel Applebee said of where this game ranks all time in games he's coached in. "I'll tell you what, this senior class, all these kids – this whole school, community – it's unbelievable. These seniors deserve every bit of this. They've worked their butts off. Give it to Aquinas, they're a tremendous team, but I can't say enough about our kids."
It was a bend don't break game for the Jaguars, who fell down 7-0 early as Tank Young took the opening play of the game 80-yards.
On the next Saints drive following a Mill Valley three-and-out, Blake Anderson found Young for 43 yards and it appeared the rout was on when – on the third Aquinas drive – it appeared they would stretch the lead to three touchdowns with a 1st and 10 from the Mill Valley 14, but Anderson was intercepted by Kolten Jegen at the 3 when he underthrew a fade to Young.
Mill Valley started to gain momentum and would take the ball 97 yards capped by an 8-yard Quin Wittenauer run. Wittenauer would tie the game up on the next Jaguars drive with an 11-yard run.
"All year long they have not wavered under any circumstance," Applebee said. "They haven't folded for any reason. It's always next play in their mind and they understand that. We got down 14-0 to Aquinas and that's a feat in itself to comeback and tie it up. We had so many momentum swings in this game and there's so much ups and downs – I talked about it all week long that there'd be a ton of them. We had to go focus on what's our next play, what's our job the next play and they did that and it showed."
But the tie game lasted only 17 seconds as St. Thomas Aquinas' Tom Downey took the next play 65 yards.
Mill Valley had a chance to tie the game up at the end of the first half when faced with a 4th and 9 from the Aquinas 25. It lined up as if it was going to try a 42-yard field goal but audibled into an offensive formation. Cooper Marsh found a wide open Jegen, but the ball slipped through Jegen's hands and dropped incomplete.
Mill Valley would have to wait 24 minutes before it had another opportunity to tie the game when Chris Tennant nailed a 30-yard field goal to force overtime.
The Jaguars almost had a self-inflicted loss as it stopped Young on 2nd and 9 from the Mill Valley 44, but a personal foul after the play and away from the ball gave Aquinas a fresh set of downs.
Mill Valley was then mere inches from not even having a chance to kick that field goal. Aquinas had a 4th and 2 from the Mill Valley 21 with less than two minutes remaining. Anderson handed the ball off to Young, who was stopped just shy of the sticks. Had Young been able pick up the first down, the Saints would have been able to knee the ball and watch the clock expire as Mill Valley only had one timeout left.
The fourth quarter saw a combined 21 points after a scoreless third.
Tennant hit a 22-yard field goal, which made it 21-17. On the ensuing kickoff, Tank Young took it 99 yards, but the officials called him out at the Mill Valley 15. Two plays later he finished what he started to make it 28-17 Saints with 7:31 left. Young finished with 132 yards on 19 carries.
Mill Valley responded on its next drive with a 7-yard run by Marsh, who found Jared Napoli for the two-point conversion.
Mill Valley will face Wichita Northwest next Saturday as it seeks its third state title in five years.
Raymore-Peculiar 27, Liberty North 21 - Missouri Class 6 quarterfinials
By Andy Meyer
Even as Gabe Shanklin crossed the goal line, he could hardly believe what was happening.
The Raymore-Peculiar senior looked around in disbelief after he scored the game-winning touchdown with 18 seconds left during the Panthers' 27-21 victory against Liberty North on Friday in the Class 6 District 4 championship.
Shanklin's touchdown allowed Ray-Pec clinch to its first district championship since 2009, and it also marked the first district championship at the Class 6 level.
"It was very emotional because I know how far we've come," Shanklin said. "Especially this game from being down 14-0, us not panicking and us winning the game."
Indeed, the Eagles soared to a two-touchdown lead in the first quarter behind its senior playmakers.
Receiver Warren Bennett III took a punt return on one hop and reeled off a dazzling, tackle-breaking run that went for 90 yards and a touchdown to put Liberty North on the board. After the Eagles defense forced a quick stop, running back Keshawn Turner then found the edge to make it 14-0.
Even then, Raymore-Peculiar never lost its focus or composure.
On the ensuing drive, the Panthers executed a fake field goal to perfect, as Luke Grimm took the direct snap and bowled into the end zone. One Ray-Pec next drive, Hudson Bailey hauled in a perfect strike from Conrad Hawley from 31 yards away, ultimately taking the lead when Grimm passed for the two-point conversion. Just like that, the Panthers led 15-14.
"One this this team does not do is panic," Shanklin said. "We've never panicked in a game. I feel like this is the best example, down 14-0."
Liberty North rediscovered its groove and retook the lead, 21-18, on Luke Mathews' touchdown grab from Jake Van Dyne, though Gabe Sappington leveled the score at 21-21 in the final seconds of the first half.
After such a thrilling first half, defense ruled the rest of the way. Both teams traded punts in a field position battle that lasted until the final minutes.
The Eagles had two possessions during the fourth quarter and looked primed to seize the momentum. But each drive stalled, and Liberty North had to punt it back to the Panthers midway through the quarter.
"The biggest thing that killed us is we were backed against the goal line," Liberty North coach Greg Jones said. "They did a great job playing the battle of field position.
"And then we were our own worst enemy. We kept stopping ourselves."
That's when Ray-Pec resorted to the ground-and-pound style that's served them so well all season.
On their final drive, the Panthers marched 66 yards thanks to 11 runs and just two passing plays. Shanklin and Phillip Fager combined for every carry on the drive, converting one first down after another.
"That to me, really set the tone for us when we got those three first downs in a row running the football, when everybody in the stadium knew we were going to do it, too," Ray-Pec coach Tom Kruse said. "So I give a lot of credit to our offensive line."
With just 18 seconds left, Shanklin burst through a hole in the line and scored from 8 yards out to put his team in front for good, clinching the district championship.
Shanklin led the way with 80 rushing yards, while quarterback Conrad Hawley made a handful of clutch plays in the passing game to account for 74 passing yards.
Ray-Pec will host No. 1-ranked DeSmet next week, and Kruse said winning the district title is a testament to the players and coaches for having belief in themselves.
"I wouldn't put anything past us," Kruse said. "I thought we'd be a tough out because of the way we've battled all year, and the senior leadership's been fantastic.
"And here we are. It's been exciting for us."
Despite a valiant performance, the Eagles suffered their first loss of the season. Jake Van Dyne threw for 129 yards and a score, while Liberty North's ground game was largely held in check by a touch Ray-Pec defense.
After lining up against Kruse for the first time their career, Greg Jones said he was proud of how the team battled throughout the game and would look back fondly on a history season at Liberty North.
"It's going to sting, but here in a couple weeks, we'll look back at what we accomplished and what we did," Jones said. "I think our goals were set where we wanted to go and what we wanted to do, and it hurts that we didn't get there."
Blue Springs 17, Rockhurst 16 - Week 2 (Final Meeting between Rockhurst's Tony Severino and Blue Springs' Kelly Donohoe)
By Steve Bubalo
The Blue Springs defensive line was wreaking havoc on the Rockhurst offense for a good chunk of Friday night's game, and on the most important play of the game, they were able to do it one more time.
Jackson Boyd hit Hawklet quarterback Nick Smrt as he rolled out on a two-point conversion attempt with 20 seconds left, forcing Smrt's throw to fall well short of its intended target to preserve a 17-16 Blue Springs win.
"(Defensive coordinator) Matt (Marble) said he was going to bring it and I said, "yes, bring it"," Blue Springs head coach Kelly Donohoe said of the pivotal play. "…The kids played with such toughness tonight. We had several injuries and we just kept fighting."
This could have been Tony Severino's last game he'll ever coach against Blue Springs (2-0) as head coach of Rockhurst (1-1), and win or lose, he made sure it was going to be a game to remember.
After his offense put together a nine-play, 91-yard touchdown drive in less than 2 minutes to pull within 17-16 of the Wildcats, Severino had no plan for this game to go into overtime.
"Never," Severino said when asked if there was any hesitation to go for two. "When you come back like that with 20 seconds left, the worst thing you can do is go for the tie."
The move did shock Donohoe.
"I thought he was going to kick it," Donohoe said. "I was looking at our script for overtime."
The finish was typical of what the Blue Springs-Rockhurst rivalry is. Early on, it looked as if the Wildcats might run away with things, but unsurprisingly, the game turned into another knock-down, drag-out affair.
Blue Springs and quarterback Dom Harkness started fast, driving down and scoring on its first drive when Harkness found Stefan Black II for a 21-yard touchdown pass. Rockhurst would fumble on its first play of the game on the ensuing drive, giving the ball back to the Wildcats. Harkness would take advantage, this time finding Cooper Willich on a 29-yard strike for a 14-0 lead midway through the first quarter.
"We threw a lot at them. We wanted to throw down field," Donohoe said. "They weren't ready for Stefan's speed on that first touchdown, and Cooper ran a great corner route on the second one. Dom had a couple of great balls."
But Rockhurst responded two drives later when Max Williams scampered in from 8 yards out for a score to cut the deficit to 14-7.
After a combined seven punts in the second quarter, Rockhurst managed to string together a few plays before half to get in position for a 47-yard field goal from Owen Lawson to make it 14-10.
Fredy Romero kicked an important 32-yard field goal in the third quarter for Blue Springs to make it 17-10, but the defenses continued to dominate play in the second half.
Rockhurst managed just four first downs in the second half until its final drive. T'Andre Forbush and the rest of the Blue Springs defensive line were a menace to Smrt all game, sacking him five times, with Forbush being in on at least two of those. They also held the Hawklet rushing attach to just 67 yards.
"We wanted to punch them in the mouth," Forbush said. "We wanted to be relentless on every play."
Added Donohoe, "The game plan was to pressure hard. The guys did a great job with that. …He (Forbush) did a really nice job. He's really stepped up. We knew he had it in him and he's starting to bring it."
In the end, both coaches went home feeling pretty good about their teams.
"Our guys were unbelievable," Severino said. "It's not often you lose and feel good (as a coach). I found something out about this team tonight. You want to see them compete, and tonight they competed."
The sentiment was similar from the winning sideline.
"I can't remember the last time we had such a fun team win. So many guys contributed," Donohoe said. "It's special to be a part of this rivalry. I hope to see Tony again. If this is the last time, what a way to finish."