St. Thomas Aquinas led St. James Academy the entire night, but the Saints were never comfortable.
The number-one ranked Saints (6-0) overcame a sloppy start and held on to beat the Thunder 28-21 for their 18th consecutive victory.
"Our first two drives we fumbled down near the goal line. You got to finish those drives. That set the stage for what ended up being a close game," said St. Thomas Aquinas Head Coach Randy Dreiling.
The Saints' first two possessions ended with turnovers deep in Thunder territory. The third drive was the charm as Tank Young crossed the goal line from three yards away for a 7-0 lead. On their next possession, the Saints went to the air. Blake Anderson found Finn Barnett streaking down the center of the field for a 58-yard score and a 14-0 lead.
St. James Academy running back Michael Tujague cut the lead in half with a powerful 17-yard touchdown run. St. Thomas Aquinas got the ball back with a minute left in the second quarter, and the Saints marched down to the Thunder 30-yard line. On the last play of the half, Anderson heaved a jump ball into the corner of the endzone. Isaiah Gavin pulled it in, and the Saints had a 21-7 halftime lead.
The Thunder threatened to take the momentum early in the fourth quarter after a one-yard score by Tujague made it 21-14. But the Saints answered with a signature 69-yard tackle-breaking touchdown run by Young. The junior running back rushed 24 times for 199 yards and a pair of touchdowns.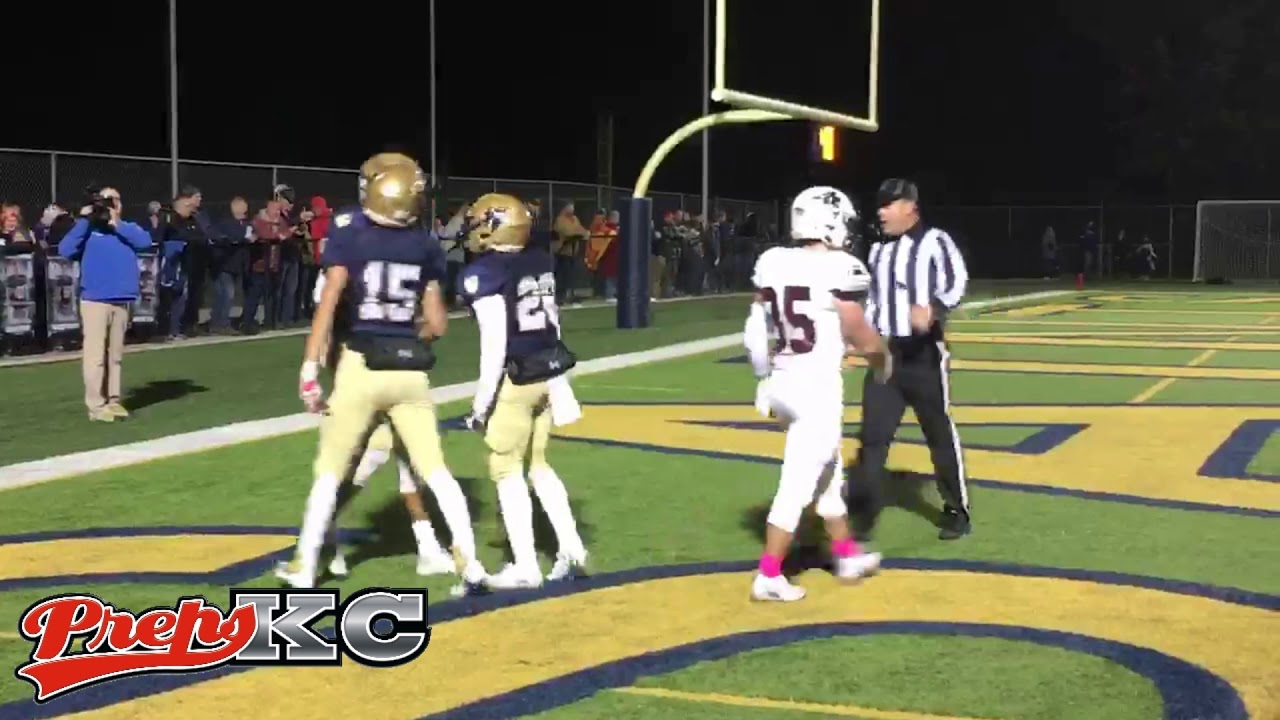 "Fill the Tank," said Dreiling. "That's what we say around here. He's pretty good. It seems the bigger the game, the bigger he plays."
The Thunder struck back quickly. Brady Feldman passed the ball to Tyler Claiborne, who broke a tackle and sprinted to the endzone for a 46-yard touchdown. St. James Academy got the ball back with 4:13 to go, and advanced to the St. Thomas Aquinas 31. That's when Feldman was picked off by Dajni Brooks with nine ticks left on the clock, sealing the victory for the Saints.
"That's a good football team. They beat Miege and they get to practice too. They're a good team," said Dreiling.
The win sets up a huge match-up next Friday night. Number-one St. Thomas Aquinas (5A) visits number-one Bishop Miege (4A) for the EKL title.
"Oh yeah, it's always fun playing those guys. They're a great program obviously with tradition. It's gonna be another battle. This league's a battle every week," said Dreiling.
St. James Academy (3-3) will travel to Kapaun Mt. Carmel.